go to content
sign out
tips & trends
get the scoop: what is a gel manicure
As gel nail manicures are here to stay for some, manicure lovers have questions about how to best use gel nail polish and products. With some of your classic Essie nail polish shades like 'ballet slippers' and 'wicked' available in our essie.gel formula, read on for what you should know before stepping into your favorite nail salon!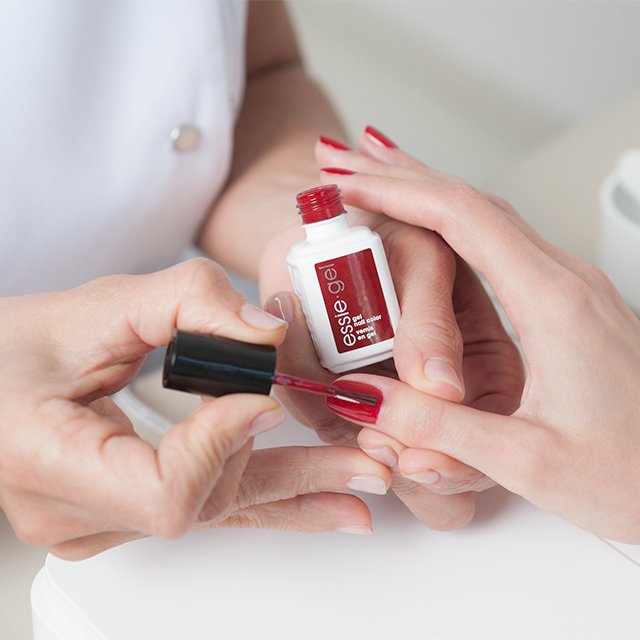 are gel nails right for everyone?
If you have healthy nails and nail beds, gel nail manicures are a fantastic way to get long-lasting gorgeous nail colour and brilliant shine. However, if your nails are damaged, chipped or in need of some TLC, it might be your best bet to nurse them back to health before trying gel nail products.

what should I do to prepare myself for gel nails?
All you need are healthy nails! Good nail care and hygiene start with keeping cuticles hydrated with essie apricot cuticle oil. essie also suggests you talk with your favorite nail technician about which services are right for you. The resident nail experts at your local nail salon should be a go-to resource and will always help tailor your nail care to your specific nail concern.

what is the difference between a gel manicure and a traditional nail enamel manicures?
Gel nail polishes are formulated differently from traditional nail colour and cure under artificial light, so they dry faster and last longer.

The key "gel" ingredient in gel nail polish is photo-reactive, so once applied, it requires curing under a light-emitting diode (LED) nail lamp or ultraviolet (UV) nail lamp. essie•gel nail products are only compatible with LED lamps and cure to a gorgeous, glossy finish in just a few minutes. The essie•gel top coat is applied last, and then the nails are cleansed to remove any residue. The gel top coat protects nails while giving them the strength to take on your daily activities, without chipping, peeling or looking scratched.
should you shake essie•gel products prior to application?
Your manicurist should shake the bottles of essie•gel base coat, nail colour, and top coat vigorously, especially the base coat, before application to ensure the formula is thoroughly mixed and homogeneous.

can essie•gel nail colour be used with the base or top coat from another gel brand?
The full essie•gel system is specially formulated to work together: each layer of gel nail polish works seamlessly with the previous to create a powerful bond. Mixing varieties could compromise the strength of your essie•gel manicure, so we don't recommend it.

can you use traditional essie nail enamel to fill in gel manicures if you need to?
Gel nail polish and traditional nail enamel don't make a smooth, seamless match. We don't recommend it. For a fresh manicure, work with your local salon to have gel manicures removed so the nails can be cleansed and readied for a new manicure.

is essie•gel only LED lamp compatible or can you use UV nail lamp to cure?
essie•gel is only LED compatible. Some UV gel brands require that you cure the nail colour and top coat for 2 minutes per layer – essie•gel is only a 30 second LED cure for the colour coat, and a 1-minute cure for the topcoat. With cure-times that fast, we think the essie•gel professional LED nail lamp is clearly the way to go!

how to remove gel nail polish?
Though gel manicures are an amazing way to enjoy brilliant essie colour and super-glossy rock hard shine, removing essie•gel nail polish is a process that's best left to our nail salon experts and certified nail technicians to ensure the health of your natural nail. These are the step-by-step gel nail polish removal instructions that we recommend to our nail salon partners and essie nail technicians.

1. thoroughly saturate an absorbent pad with acetone nail polish remover and place on nail.
2. wrap nail in aluminum foil snugly. a secure fit is essential for thorough removal. soak for 15 minutes.
3. gently lift foil and check if the nail polish has lifted away from the nail. if not, re-wrap and soak another 5 minutes.
4. gently massage the foil at top of nail and pull foil wrap away from nail. when gel has lifted from nail, carefully remove any gel excess on nail with an orangewood stick (from cuticle to tip).
5. rub nail with a lint-free nail pad soaked in nail polish remover to remove any residue.
6. re-hydrate nails & cuticles with apricot cuticle oil.
bear in mind that essie•gel nail products should be removed within 14 days to prevent longer removal times.

how to do your own gel nails at home?
long lasting nail polishes, like essie gel couture, are formulated to give gel-like shine and longwear perfection in an easy 2-step system. Perfect to try at home or in the nail salon! Apply two coats of gel couture nail colour then one coat of the platinum grade-finish top coat to seal it in. No base coat needed, with an easy at-home removal using acetone nail polish remover and a cotton pad.