go to content
sign out
tips & trends
go behind the scenes and backstage with an essie professional
Rita Remark, essie Global Lead Educator, has been the nail lead at some of the most coveted fashion shows from Oscar de la Renta, KITH, Alice & Olivia and more. Here she talks runway ready nail tips and tricks to get a model manicure. From backstage with the fashion elite, these hacks can cleverly be used for a DIY mani.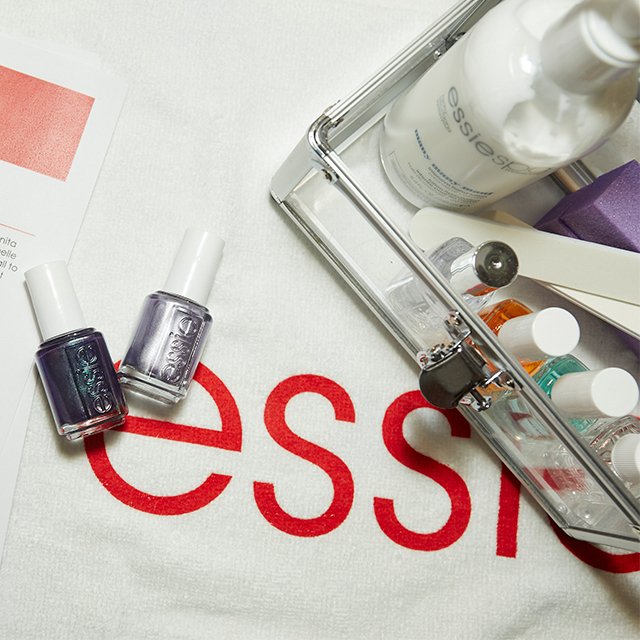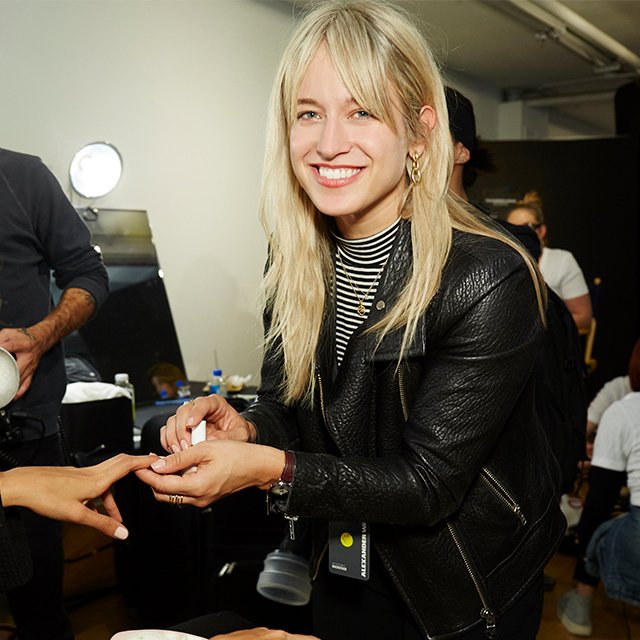 Backstage at New York Fashion week, manicurists are often tasked with providing manicures and pedicures for up to 40 models…in less than three hours! Speedy, thorough and tidy manicures are the name of the game. Time is of the essence and sometimes manicures have to be polished and ready for the runway in 10 minutes flat. With so little time, its no wonder that we have invented some very clever backstage manicure "hacks".


start with cuticle oil
There is never enough time to give a proper spa manicure backstage, so manicurists always begin a manicure with a drop of essie 'apricot cuticle oil' on each nail. This liquid gold is wonderful, not just for feeding the cuticles but concealing dryness and imperfections. It's like a manicure-in-a-bottle! If you need your nails camera ready in a snap, apply cuticle oil first. Just don't forget to give the nails a thorough cleanse with nail polish remover before applying colour.


never use cotton!
To a manicurist, cotton is like glitter - it gets everywhere! Nothing is more frustrating than finishing a manicure only to discover that there is a nasty little fuzzy trapped in the topcoat. To keep your manicures safe from fuzzies, use lint-free nail wipes to cleanse the nail and remove nail polish. Some manicurists even cut paper towels into squares to do the job.


set that nail colour with speed.
Fashion week won't wait for your nails to dry. Models oftentimes finish their manicure and go right into dressing. To prevent their manicures from smudging or (heaven forbid) sticking to the clothes, manicurists use essie speed.setter – a quick dry top coat that dries in just sixty seconds with time to spare backstage.


smudge fix
Despite best efforts, inevitably a few of the manicures will smudge before the runway. Luckily there is a trick to fix it! If the manicure is in it's "tacky" stage (i.e.,: almost dry, with a putty-like texture,) manicurists will moisten the tip of their finger with fast-drying drops and lightly coax the nick back into place using small stokes in the opposite direction of the damage. If the nail polish is still wet, then manicurists will moisten the tip of their finger with nail polish remover and lightly dab the smudge to level out any polish ridges.


clean ups on the runway aisle
Backstage manicurists don't have the luxury of using a table or a station. Instead, they're working beside makeup artists and hair stylists. Working in this way can lead to some colour on the cuticles – but never a reason to stress. All pros keep a clean-up brushesnail cleaning brush in their kit. A flat eyeliner brush dipped in nail polish remover acts like an eraser, wiping away mistakes like they never happened.


quick glitter removal
Glitter is the easiest and quickest way to add a little "bling" to fingertips for the runway. It isn't, however, the easiest to remove. Glitter tends to stick to the nail like glue, making it a messy and tedious process to remove. Luckily there is a quick backstage nail hack for removing the stubborn sparkles in a snap!

Begin with an initial swipe with polish remover to rid the nail of top coat and any coloured polish beside the glitter.

Working one nail at a time, firmly press a pad with remover on the nail for 5 seconds. This gives time for the nail polish remover to saturate the remaining polish and glitter.

Next, with an orangewood stick, lightly push the remaining glitters away – they'll fall off the nail without a fight!
---
shop this post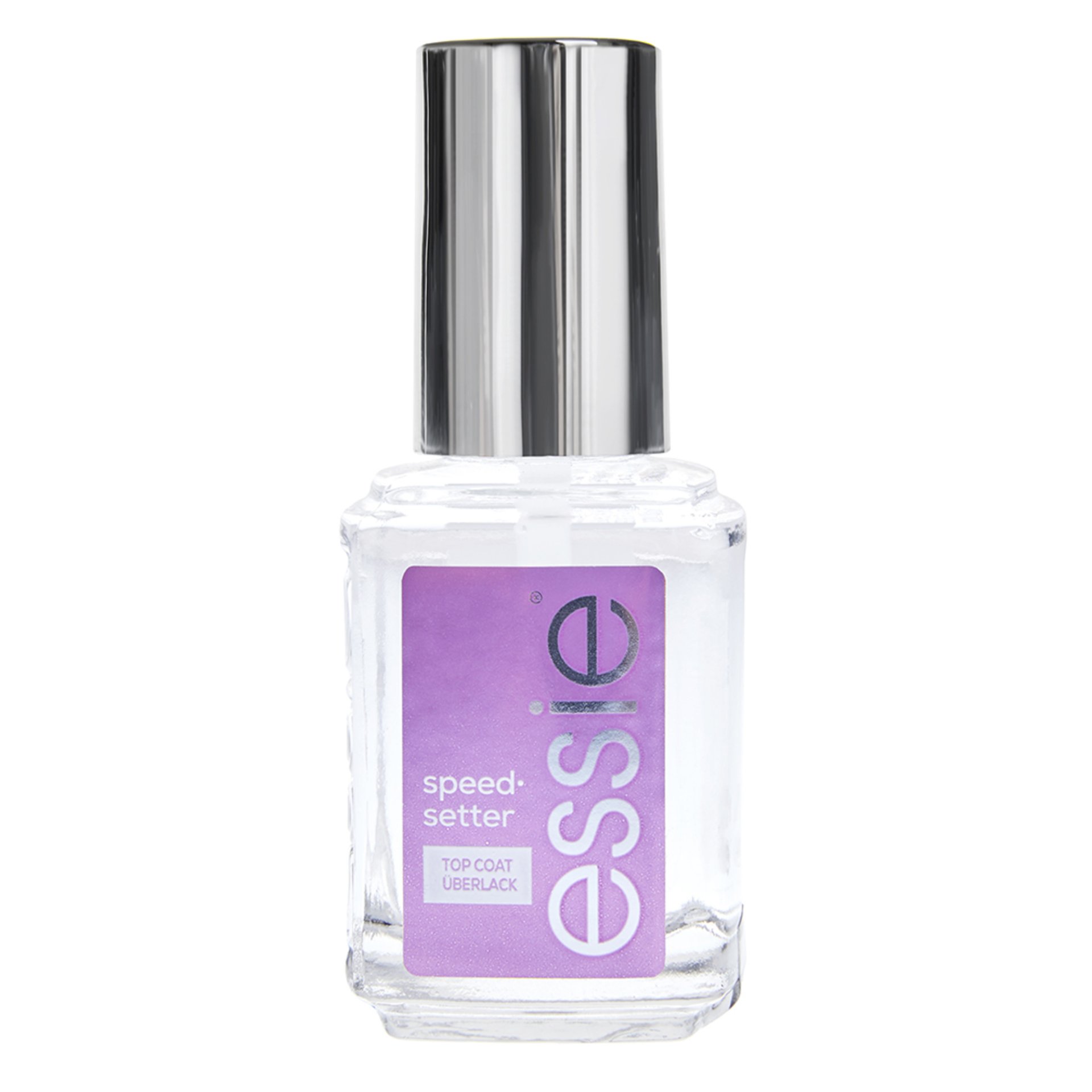 nail care
speed setter
<style type="text/css"> p.p1 {margin: 0.0px 0.0px 0.0px 0.0px; font: 12.0px 'Lucida Grande'; colour: #000000} </style> <p class="p1">for a perfect high-shine finish in record time, essie speed.setter is top coat and quick dry top coat in one cutting-edge formula.<span class="Apple-converted-space">&nbsp; </span>This high performance top coat dries in under a minute, and works with any essie enamel polish for an ultra-shiny finish!</p>
---